December 15 2013

November 7th
Lichfield Mercury Article
Childrens Author will launch her latest novel at historic book shop
Pleas see actual article below click to zoom.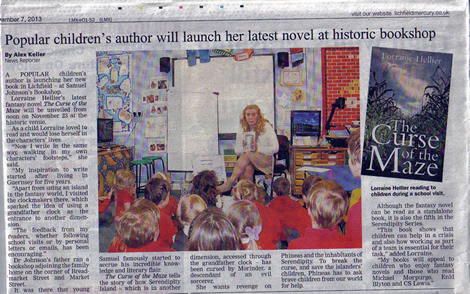 Children and Young Adult
The Other End of the Rainbow - Lorraine Hellier
This is the first in a series of children's fiction that works equally as a stand-alone story. It is a well-written book, an adventure, full of vivid descriptions of characters and places and contains a number of illustrations. At 96 pages, it is a good length for a junior reader.

The central character is fourteen-year-old Zoe. We meet her at a miserable point in her life. Having recently moved home, she is miserable in her new school, finding it difficult to adjust and to make new friends. Then she is offered a Saturday job in an antiques shop, where she instantly befriends Phineas, the proprietor.

He introduces Zoe to the magical island of Serendipity. This fantasy world exists in another dimension and is entered by stepping through a grandfather clock. When Phineas' daughter is kidnapped by the menacing mermaids and mermen (superbly described with just the right level of evil intent for younger readers to be comfortable with), it is Zoe who devises a courageous plan to save her.

This is a story about growing up, forming new relationships, gaining new confidence and learning to adjust. The author has created a magical world in which an individual can be helped with their problems. But the book goes beyond this, conveying a strong and positive message about overcoming difficulties in life.

Unlike many of today's tales, this book retains a certain innocent charm, reminiscent of a bygone age of children's literature. It is probably most suited to girls, especially those at the transition of secondary school and adolescence. I am sure those who enjoy this story will look forward to subsequent books in the series.

Review by Yvonne
www.indiereads.co.uk
Interview with Children's Author Lorraine Hellier
Friday, February 04, 2011
Today I'm welcoming to my blog UK children's author Lorraine Hellier.
I've known Lorraine for some years, as we both belonged to the same local writers circle. Lorraine was also one of the first people to buy my course Write Any Book in Under 28 Days. She now has three children's books published, and more on the way.
Let's get straight on to the interview then...
ND: Welcome to my blog, Lorraine. What made you decide to become a children's author?

LH: Thanks, Nick, it's good to be here.
My experience and rapport with children has probably influenced my writing. I have worked with children for many years in dentistry, clinically one-to-one, and in schools with all ages and ability levels.

Apart from that, the ideas that fired my imagination suited this genre. My style of writing is visual and full of colour and images. I walk in the footsteps of my characters.

ND: Were there any particular books or resources you found helpful or inspiring as a new children's author?

LH: There are many resources available for aspiring authors, which in my experience vary considerably in standard.
Those I found especially useful were Writing a Children's Book by Pamela Cleaver and your own Write Any Book in Under 28 Days CD-ROM.
Winchester and other writers' conferences and the London Book Fair seminars are excellent for getting advice from agents and publishers, and also for meeting other authors.

I must also mention my local writers circle, Lichfield & District Writers, from which I have gained invaluable advice and support.

And, of course, the Internet for researching absolutely anything!

ND: Could you say a bit about your existing children's books - for example, what age group are they aimed at, and what sort of topics do they explore?

LH: The books have been written as individual stories but they will become a series. They would suit the 7-10 age range, but I have had feedback from adults who have read and enjoyed them too!

The first four books introduce a different child with a problem. Their visits to the fantasy land of Serendipity help them. In book five they will all meet together.

The Other End of the Rainbow is Zoe's adventure. She is unhappy at her new school and finding it hard to make friends. She starts a part-time job in an antiques shop, where she enters the Grandfather Clock, which is a doorway to the land of Serendipity. Assisting new friends there who are facing a crisis helps her gain self-confidence.

Pirates...and a Piglet is Matthew's story. He is staying at his grandmother's during the school holidays. He visits the fantasy world through the Grandfather Clock at her house. The time he spends in Serendipity, his adventures and experiences, help him to mature into a fine young man.

The Wayward Wagon is Ellen's turn to visit the fantasy land. The Grandfather Clock has now moved to the village school. Ellen has problems at school with bullying. In Serendipity she learns to work in a team, and also help them find a lost child. The bullying problem is addressed by Ellen and her friends producing a project to help other children.

The Boy who Tricked Trolls, currently awaiting publication, will be Alex's story. He has responsibilities beyond the normal teenage boy, helping his mother, who has had an accident and is confined to a wheelchair. He has an encounter with trolls and assists with a rescue. In book five, the four children will be meeting together!

The books are available from Amazon, W. H. Smith's and Waterstones, and signed copies from my website at http://www.lorrainehellier.com/

ND: Have you any tips for other would-be children's authors?
LH: Certainly. Here are four...
1. Join a critique group. Share with a small group of other writers - they don't have to be the same genre.
2. Read aloud - it helps distinguish repeated words or vocabulary which doesn't sound right. Remember, some children's books are read out to children by their parents.
3. Try to write from the point of view of a child and visualise events through the characters' eyes.
4. Read other authors in the genre.

ND: You have already mentioned using the Internet to help research your books. Could you say a litle more about this?

LH: I plan to use the Internet more in the future as I begin new projects. At present I mainly use search engines such as Google and see where the links take me. For example, For Pirates...and a Piglet I had to find out about Blackbeard and his ship The Queen Anne's Revenge. For The Wayward Wagon there was the issue of bullying to research. For my latest book I have had to find out about trolls and the legends that surround them.

For personal use I keep up to date with friends, including other writers, through Facebook. On Amazon I read children's book reviews to see what is popular. Also, I like to travel, so when I have holidays booked, I'll look at websites associated with the places I'm visiting.

ND: I notice you say on your website that you are available for book signings, school/library visits, writers/readers groups, etc. Is this something you enjoy?

LH: I love meeting people and hope to have more time for this in future. I did a book signing in W. H. Smith's, Sutton Coldfield, when my first book was published. I have led workshops at Lichfield District Writers, which I enjoy. Writers can support each other with our various experiences, and offer advice and encouragement.

ND: Finally, are there any projects you're working on right now that you'd like to tell my readers about?

LH: As I mentioned, I have completed book four in the Serendipity series, The Boy who Tricked Trolls, which is Alex's story, and I have begun the fifth book, which will bring the four characters together. I have also written a series for younger children about a cat.

I also have some ideas to research when I 'retire' from my 'day job' later this year.
* * *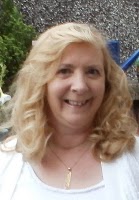 Thank you to Lorraine for some interesting answers, and for throwing a little light on the life of a children's author. If you want to find out more about Lorraine and her books (and maybe even order a signed copy for a young person of your acquaintance), a good starting point would be Lorraine's homepage at http://www.lorrainehellier.com/.
And, of course, if you have any comments or questions for Lorraine, please post them below and she will be happy to answer them.
Book cover image and publicity photo provided by the author.
----------------------------------------------------------------------------------------------------------------------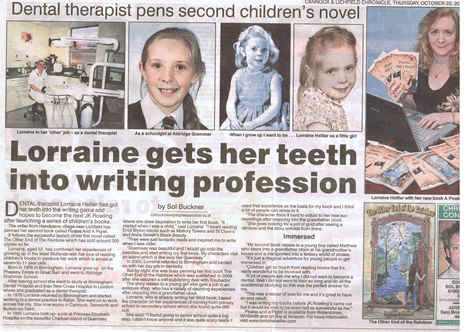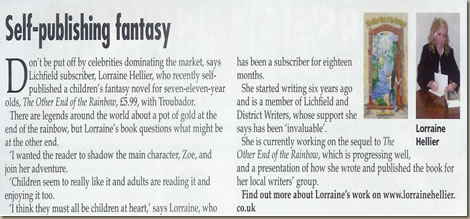 ADVENTURE TICKED OFF
Date : 23.11.06

The Other End of the Rainbow is the brand new book by Lichfield children's author Lorraine Hellier.

It tells the tale of Zoe Chappell, a young girl who is very unhappy at her new school. But when she applies for a job in an antiques shop she discovers a whole new world after stepping through an old grandfather clock.The book will be in most book shops from December 1, priced £5.99.